La Tranche-sur-Mer, close to Les Rouillères campsite
Les Rouillères campsite is situated at the southern end of La Tranche-sur-Mer, perfect for enjoying the scenery of the La Belle Henriette nature park. Moreover, the funbus, La Tranche-sur-Mer's free bus service, stops just in front of the campsite… No need for a car! You'll be able to visit the surroundings easily without one.
La Tranche-sur-Mer is centrally located: this pretty seaside resort faces the Ile de Ré and is an hour from Sables-d'Olonne and La Rochelle. It also offers all the benefits of a seaside resort with the "Family Plus" label.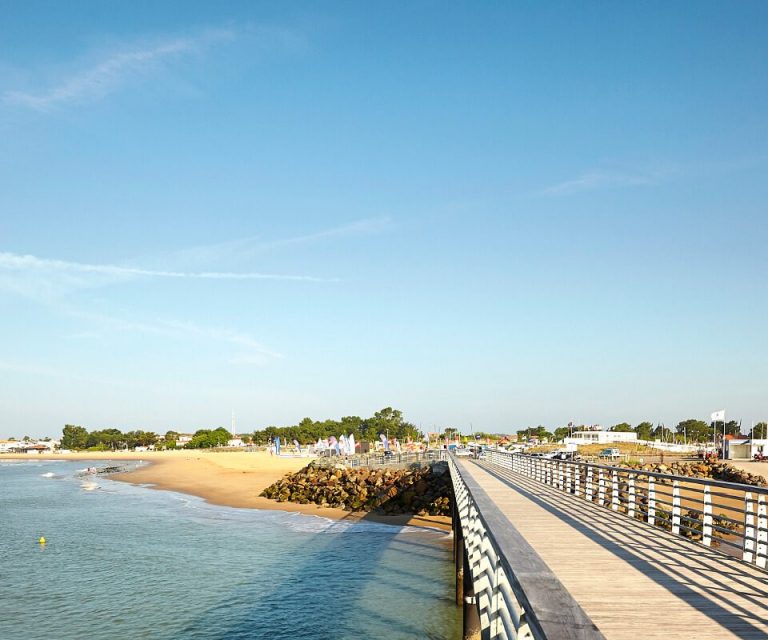 La Tranche-sur-Mer and its beaches, or La Petite Californie
The commune of La Tranche-sur-Mer is part of a natural and conserved environment. Its fine sandy coastline, bordered by dunes and forests of holm oaks and maritime pines, stretches over 13 km, mostly facing south. Exceptional sunshine, water activities, board sports and surf spots have earned it the well-deserved nickname of "Little California". Most of the beaches in La Tranche-sur-Mer have lifeguard posts and carry the European Blue Flag. You will be able to practice all the activities you want: relaxation, swimming and sunbathing, fishing, windsurfing, kitesurfing, paddleboarding, sand yachting…
Where to go in La Tranche-sur-Mer
The Belle Henriette beach, directly accessible on foot from Les Rouillères campsite!
The central beach and its pier: where you can walk or board a boat for the Ile de Ré.
The beaches of Corps de Garde and La Terrière: famous surfing spots offering beautiful waves… And many others!
La Tranche-sur-Mer, for "Family Plus" holidays
La Tranche-sur-Mer has preserved the typical character of the communes of the south of the Vendée. The town centre has a market place and is lined with pedestrianised streets and small shops; districts interspersed with islands of nature or backed by the forest (La Grière, La Terrière, the Lighthouse district, etc.); but also direct and immediate access to fine sandy beaches.
As a commune with the national Famille Plus label, La Tranche-sur-Mer favours family holidays. It offers a welcome, information, cultural events, appreciation of the environment and heritage; all in a pleasant and safe environment… All the services, shops and structures of a Vendée commune on a human scale are there and within your reach when you holiday at Les Rouillères campsite!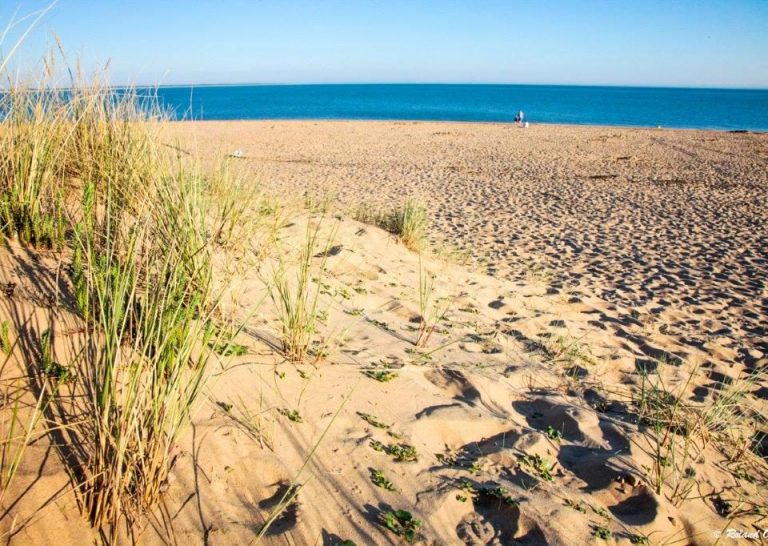 Other attractions:
The footpaths and the 20 km of cycle tracks that criss-cross the commune and its surroundings.
Les Floralies: a shady park for the whole family (walks, rides, pony rides…).
The many events throughout the year: Déferlante, Galopades Tranchaises, Tréteaux de l'Automne, and many more besides!
Don't hesitate to ask at campsite reception or at the
Tourist Office
 in La Tranche-sur-Mer to find out more things to do in the Vendée!
Your campsite by the sea, in the Vendée
Les Rouillères campsite by the sea in La Tranche-sur-Mer is located near a large sandy beach. You have direct access to the beach from the campsite. Book a comfortable mobile home in our campsite in the Vendée and enjoy all our facilities specially designed for you, as well as our heated swimming pool.