Treat yourself to a stay at our campsite in La Tranche-sur-Mer
Stay in a campsite in La Tranche-sur-Mer with a swimming pool and enjoy a generous sunbathing area for warm lazy afternoons.
The swimming pool at our 4-star campsite is the focal point for life and entertainment within the campsite.
We have two pools at your disposal: the large pool, a paddling pool, and since 2019, a brand new slide!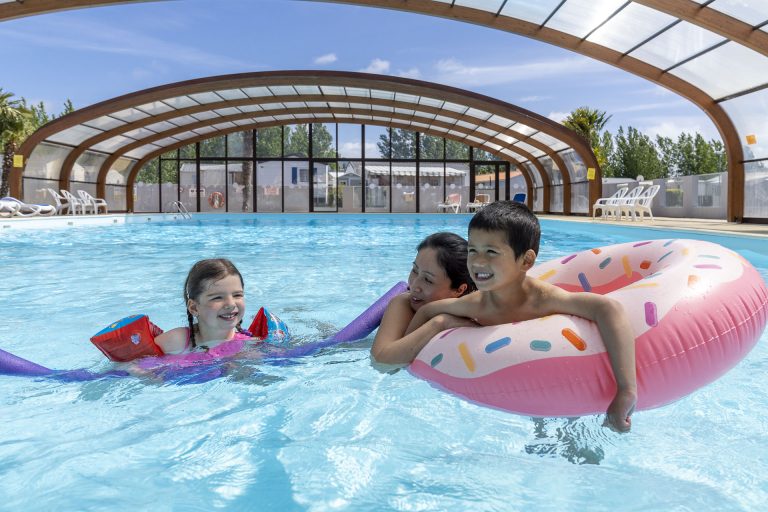 Activities
Lots of activities are organised by your campsite in La Tranche-sur-Mer. With concerts, karaoke and dance parties, your evenings will be entertaining all summer long.
Enjoy a fun inflatable water ride at the pool or a guided tour of the Gaylord oyster farm.
The water park
The large pool measures 25m x 10m. This large covered and heated swimming pool regularly hosts events.
Fully protected, the pool area ensures safety and total relaxation with your children.
On your towel or a sunbed, protected by parasols or palm trees, everything is done to ensure you have a pleasant time by the pool.
Enjoy the many aquagames organised there. Your children can meet up to play a game of Roller Ball or mini boats!
And don't forget our water slide for fun at any age!
From now on, the toughest question will be: swimming pool or sandy beach?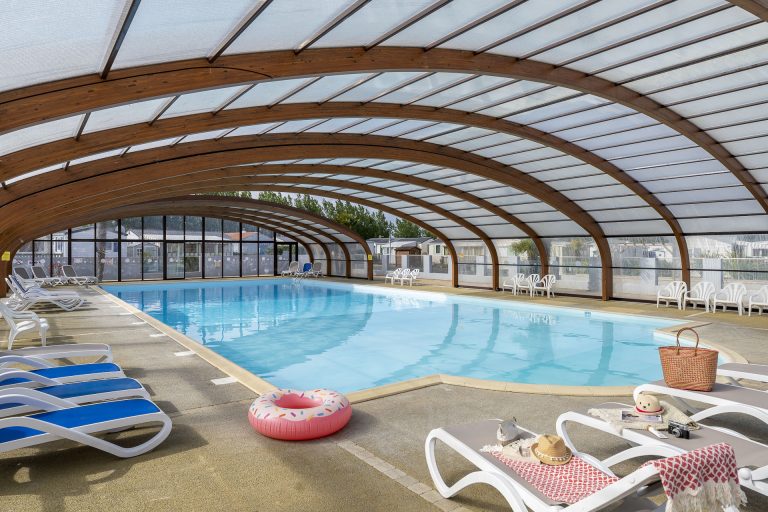 Holidays for all tastes at La Tranche-sur-Mer
Want to get away from it all? Plan your holiday in the Vendée in our charming seaside resort of La Tranche-sur-Mer.
Located a few kilometers from La Faute-sur-Mer, La Tranche-sur-Mer in the Vendée will allow you to get around easily by bike thanks to the numerous cycle ways in the town.
A towel, sun cream and sunglasses in your backpack and you are ready to visit the beaches and the town centre! Don't feel like pedalling? No problem, a free shuttle bus allows you to visit this seaside town without effort.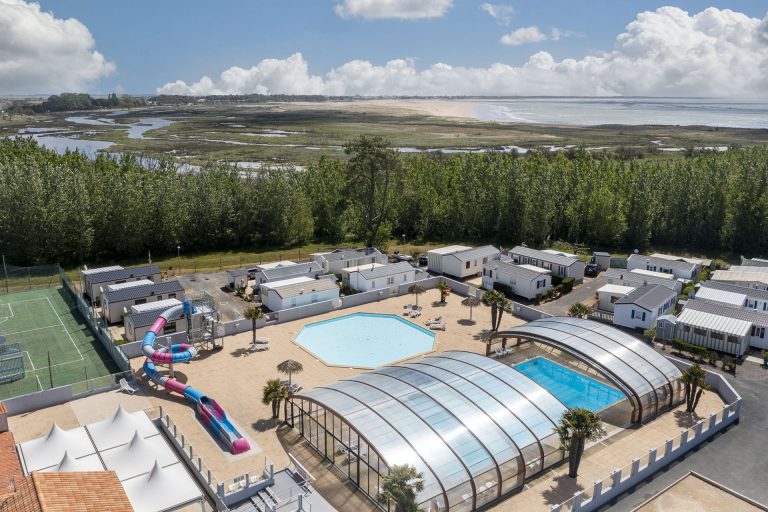 If you are eager for discovery and thrills, you will easily find a water sport that suits you. Windsurfing, surfing, paddleboarding or even kitesurfing… Let yourself be tempted by a watersport in La Tranche-sur-Mer that will make your holidays unforgettable!
If you wish to discover the region in a more quiet and relaxing way, visit the Marais Poitevin, a privileged and relaxing area where you can discover the local fauna and flora.
Does our campsite in La Tranche-sur-Mer appeal to you? Come and stay in one of our comfortable mobile homes and have a wonderful family holiday!